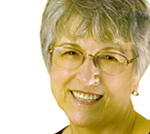 Helen Mitchell
Administrative Staff
Helen Mitchell has been practicing Pilates and yoga for 6 years and has been on staff for over 4. In addition to her regular yoga and Pilates classes, she enjoys biking, swimming, walking and ballroom dancing. She volunteers for Pets on Wheels and a number of missions at the Community United Methodist Church in Crofton.
Thanks to her yoga and Pilates practice, Helen is able to enjoy her retirement years free from the muscles spasms she was experiencing before practicing Pilates and Yoga.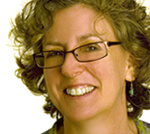 Jean Santiago
Administrative Staff
Yoga has been helping to keep Jean Santiago sane and running for nearly 10 years, almost all those years at Crofton Yoga. She believes all yoga is good yoga and likes to try different styles and levels. In her spare time you can find her hanging out with her kids and hounds, working in the garden, or reading a good mystery. She womans the desk most Saturday mornings and then rolls into Aimee's class for a great start to her weekend.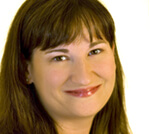 Sharon Wanamaker
Babysitter Coordinator
Sharon Wanamaker is an active Crofton community member who has been practicing yoga for 6 years, all at Crofton Yoga. Sharon regularly takes Emily's class, and also is the studio's Babysitter Coordinator. You can find Sharon at the desk on Wednesday evenings. For information on how you can earn a free class by babysitting, please contact Sharon at babysitting@croftonyoga.com
CranioSacral Therapy with Shelbi Miles, LMT, RYT
Shelbi's studies in Naturopathy, Homeopathy and Aromatherapy led her to Massage School back in the States and ultimately to her true passion: CranioSacral Therapy. CranioSacral Therapy is a gentle, hands-on method where the therapist uses the bones of the head (cranium), the spinal column and the bones around the pelvis (sacrum) to help detect and correct restrictions and imbalances within the body.
These restrictions, when left untreated, can disrupt the flow of cerebrospinal fluid, which could potentially cause problems within the nervous, endocrine, muscular and skeletal systems. CranioSacral Therapy has been shown to help people who suffer from migraines, headaches, TMJ disorders, chronic pain, emotional issues, learning disabilities and post-traumatic stress disorders, among others. Best of all, CST encourages the body's own healing processes and improves overall immune system functioning which results in a healthier you.
To make an appointment with Shelbi please call, 410/919-8665


2431 Crofton Lane, Suite 11 | Crofton, MD 21114
We'd love to hear from you!